Get Well UK makes it possible for GPs to confidently refer their patients to complementary therapists, by providing information, support and a team of highly skilled and qualified practitioners. With NHS funding this service is free to patients. We believe that complementary medicine can play an important role in improving health and well being and want to ensure that many more people have access to effective healthcare, not just people who can afford to pay for it privately.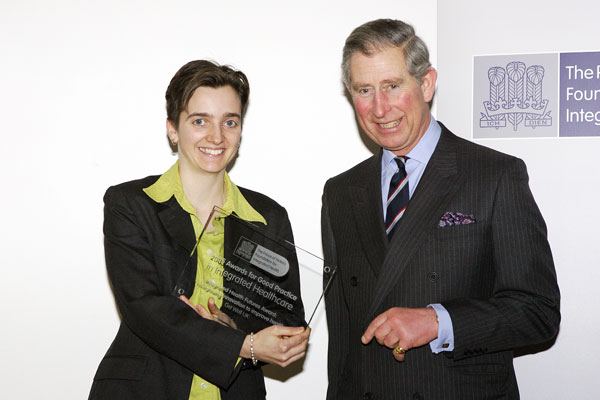 Prince Charles awards Managing Director, Boo Armstrong the 'Integrated Health Futures Award 2005' in January 2006, for innovations in primary care.
The award recognised the work of our pilot projects in Haringey and Islington, London, in creating new ways of delivering health care through a non-profit making social enterprise. The audit of our work in Haringey showed:
40% of patients had their condition more than 5 years.
Back/shoulder/neck pain and joint pain were the main reasons for patient referral accounting for 55% and 17% of referrals respectively.
A highly significant change in the severity of self reported symptoms, activity and well being was reported.
75% of patients reported they were less worried about their condition.
A Government enquiry in 2001 recommended the increased provision of complementary medicine in the NHS where there is evidence of patient demand and effectiveness. We offer therapies which have been proven to be effective for certain medical conditions, such as osteopathy for backpain and acupuncture for arthritis .
On Tuesday 23rd May 2006 an article was published in The Times reporting that several senior doctors had written a letter stating that the NHS should not spend its money on complementary medicine as there is no evidence to support their beneifts. We were approached by Channel 4 News to comment on this story, which resulted in a live interview with Boo Armstrong on the lunchtime show.
To watch the news report and interview click on the following link: No Alternative - Special Report