The osteopathy "has made my health more better because I don't get any more pains and aches no more. I'm not stiff now. I'm all right now."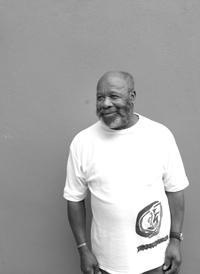 When seventy-year-old John first came for osteopathy with Get Well UK, he had been suffering from pain and stiffness all the way from his neck to his lower back for several years. The pain radiated to his left arm and also restricted his movements.
John first found out about Get Well UK through Black History Week and asked his GP to refer him. He had had some free osteopathy in the past, which had helped, but that treatment was now no longer available. He had "no trouble at all" accessing the Get Well UK service. He simply told his GP about it, filled out a form and was referred.
He had ten osteopathy treatments, two massage therapy sessions and then a further five osteopathy treatments. After the treatments, he reported not being stiff or in pain anymore.
He said, "it took about six sessions before I noticed a difference. I steadily got better.…less stiff.…less pain….I'm more fit now and feel more satisfied with life.…[the osteopathy] made me feel younger….I find it easier to do things now. I can lift my arm right up in the air".
When John was asked if he wanted to receive any more treatments, he declined, saying that he felt all right now. At the end of the treatments, his osteopath reported that John had responded extremely well, with no problem now.
When asked if he thought the service could be changed for the better in anyway, John said "Not to my knowledge. They are doing a very good job….I'm going to go line dancing now. It [the osteopathy] helped me a lot."